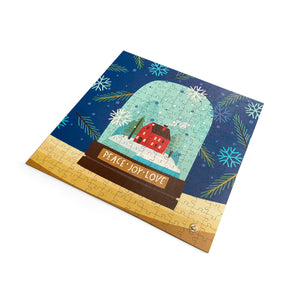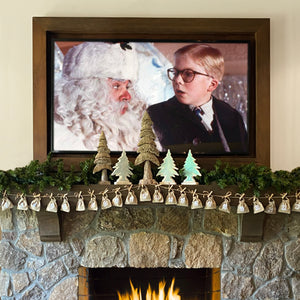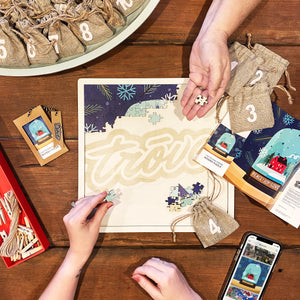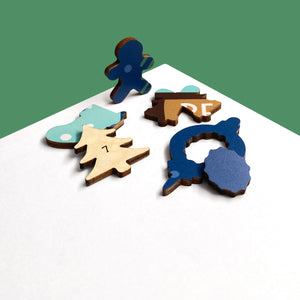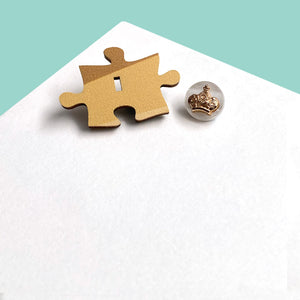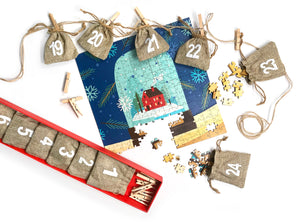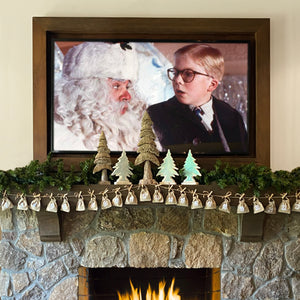 I Go To (250) Pieces Wooden Puzzle: Modern Christmas Advent Calendar Canvas Pouch Kit
• An Advent tradition for the whole family. Our limited-production Modern Christmas puzzle is presented as a kit, ready to decorate your mantle, tree, doorway, or holiday table. Kit contains jute cording, wooden clips, and 24 pre-stuffed canvas pouches filled with a portion of the puzzle. Open each pouch to discover that day's pieces. Puzzle reveals itself over the season and stores back in the pouches for use each year.
• A nordic winter image is revealed as the puzzle is completed, and culminates on Christmas Eve with a holiday message of "Peace • Joy • Love".
• Contains 250 total pieces, including 6 custom-designed Treasure Pieces™. Be on the lookout for the bells and nested ornament shapes, available only in this puzzle. Each puzzle piece is numbered on the back for easy replacement back inside the pouches for next year.
• An exclusive Crowning Achievement™ Puzzle Completion Pin is included in this puzzle. Snap this piece into place last for a final-self-pat-on-the-back. (Can you save it that long?)
• 11.5" x 11.5" completed puzzle size. Packaging measures 30" x 3" x 1.5". Pouches are 3" x 4" when flat and empty. Jute cord is 36' long (way longer than you'll need—trim to desired length.) Mantle shown in photo is 8' wide.
• Unlike calendars with candy, this is an heirloom gift that will be used each season for years to come. 
• Lovingly cut from real wood with intricate lasers. Wood puzzle pieces are dropped into place rather than being pressed into place like today's mass-produced cardboard puzzles. The experience is unlike any other, providing a rewarding *click* with each placed piece.
• Materials: (Puzzle) Basswood. Contains no formaldehyde. (Pouches) Jute, felt, polyester. (Clips) Birch, iron.